Configure Appointment Details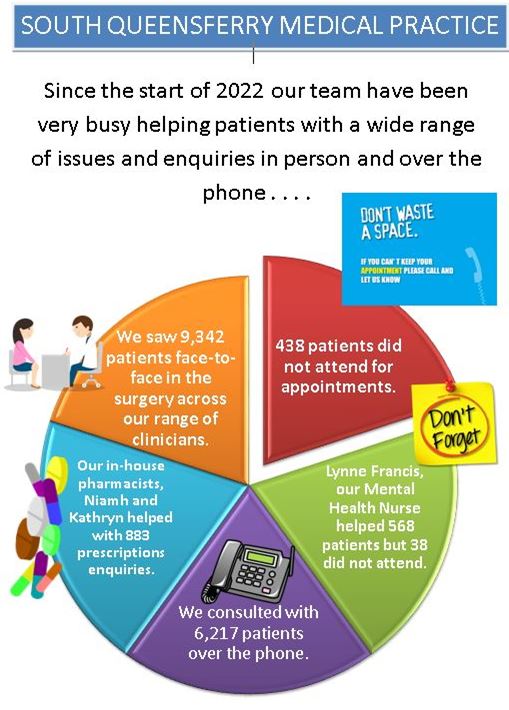 Appointments System
We offer a range of appointments which can either be pre-booked in advance or booked on the day.
These include face to face, video and telephone appointments.
Please ring the surgery to book an appointment.
If you are displaying any covid symptoms we ask that you ring for a telephone or video appointment in the first instance. Please rest assured that if a clinician decides that a face-to-face appointment is required after the telephone/video consultation then this will be booked.
We are currently offering appointments on a 6 week rolling basis. We have a limited number of same day appointments. Therefore, we ask that you consider the urgency of your concern to allow those requiring a same day appointment the most to use them.
Telephone and video consultations are allotted to a 10 minute slot; this is the same time as a face-to-face appointment. If you have a number of concerns then the clinician may ask you to make a further appointment for more in depth discussion. We ask that you treat these consultations in the same manner as you would if you were seeing a clinician at the surgery. Therefore please ensure that you are in a confidential and safe environment. We ask that if you are driving at the time of your call, please pull over to allow you to focus on your conversation and the advice being given.
If you are having a telephone consultation and it may be helpful for a photo to be sent to assist with this consultation, then please send photographs to Clinical.S78171@nhslothian.scot.nhs.uk.
Video Consultations
We are now offering video consultation appointments. These consultations are a great way for the GP to both see and hear you in the current climate where we are trying to give patients the best care we can whilst abiding by social distancing rules.
You can connect on an iPhone, Android device, PC or laptop as long as you have either Safari or Google Chrome.
Please phone the surgery to book a secure video consultation appointment before clicking on the link below.
Five minutes prior to your appointment time please click on this link:
Click here to access VIDEO CALL SERVICE
Set up your call by entering the required information and ticking the Terms & Agreement box. Please then wait in the virtual waiting room until the doctor answers your call.
Your call will only be answered if you have a pre-booked video consultation appointment.
Please see the NearMe link for more information NHSNearMe
Cancel an Appointment
It is important that you inform the reception staff if you are unable to attend your appointment, this will allow that appointment to be offered to another patient. If you fail to notify the Practice that you are unable to attend, you will be sent a text message informing you that you have defaulted from your appointment. Persistent defaulters may be removed from the list.
Home Visits
If you do need a home visit, you can help us by calling reception as early as possible on the day.
You may only request a home visit if you are housebound or are too ill to visit the practice. Your GP will only visit you at home if they think that your medical condition requires it and will also decide how urgently a visit is needed. Please be prepared to provide the receptionist with sufficient detail to enable the doctor to prioritise house calls.
Text Reminder Service
We have a texting service which allows you to receive confirmation and reminders about your appointments.
Please remember to update your contact details with us when you change address, telephone numbers and email address.