Spring booster dose for high risk groups
The Joint Committee on Vaccination and Immunisation (JCVI) advise a spring dose of the coronavirus (COVID-19) vaccine for:
adults aged 75 years and over (or will turn 75 by 30 June 2022)
residents in care homes for older adults
individuals aged 12 years and over who have a weakened immune system
The spring booster dose will usually be offered around 6 months since your last dose of the coronavirus vaccine. Some people may be invited sooner than this (at least 3 months since their last dose) to help protect them against any increase in coronavirus infections.
NHS Scotland will contact you to arrange your appointment at the right time for you.
For more information click on the link below:
Unwell with Coronavirus and need medical advice?
From Friday 1 April, if you are unwell with COVID-19 symptoms and need medical advice contact your GP practice when open and only call 111 when your GP practice is closed.

From Friday 1 April, the 111 helpline will continue to answer calls related to COVID-19 symptoms when GP practices are closed.

The NHS Inform coronavirus webpage remains the fastest way to obtain the latest health advice and information. Visit nhsinform.scot/COVID-19
More information www.nhsinform.scot/COVID-19
Self-help guide: Coronavirus (COVID-19)
Find out more about your symptoms, when you can use self-care, and what to do if your condition worsens and you need medical help - click on the link below: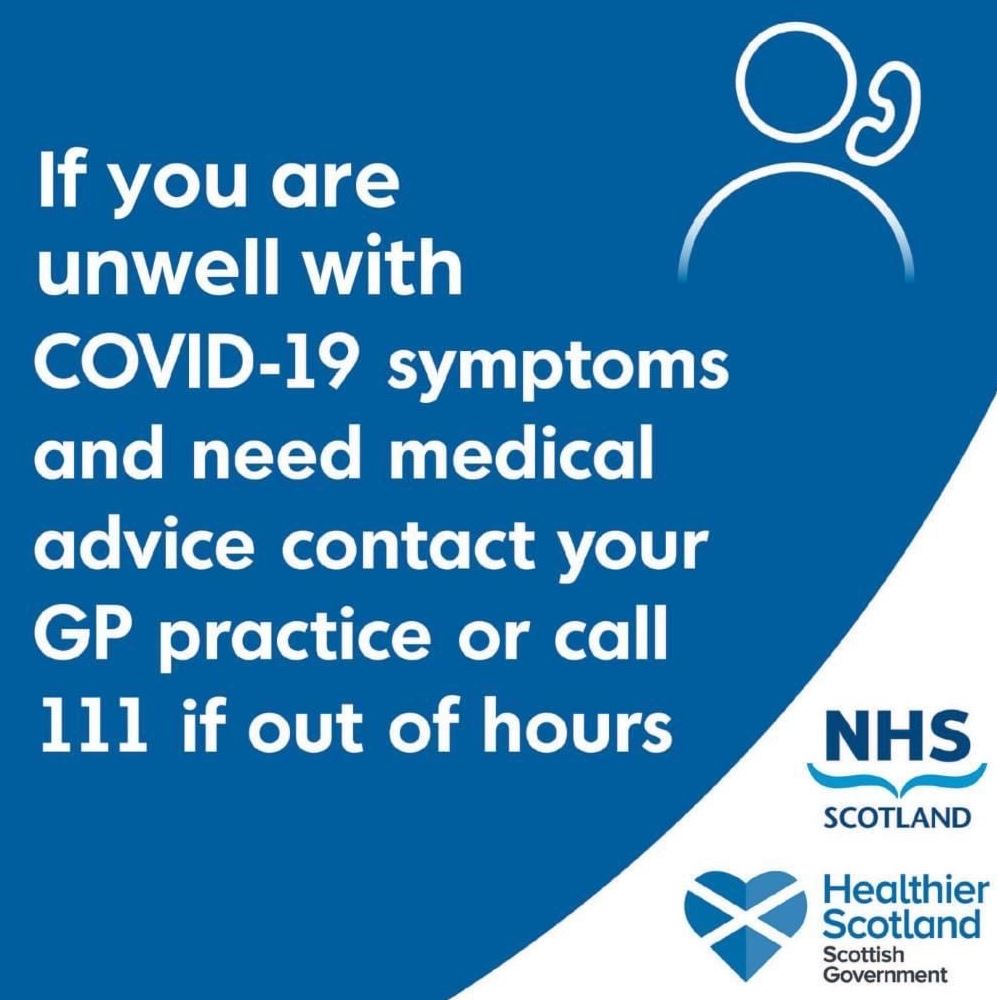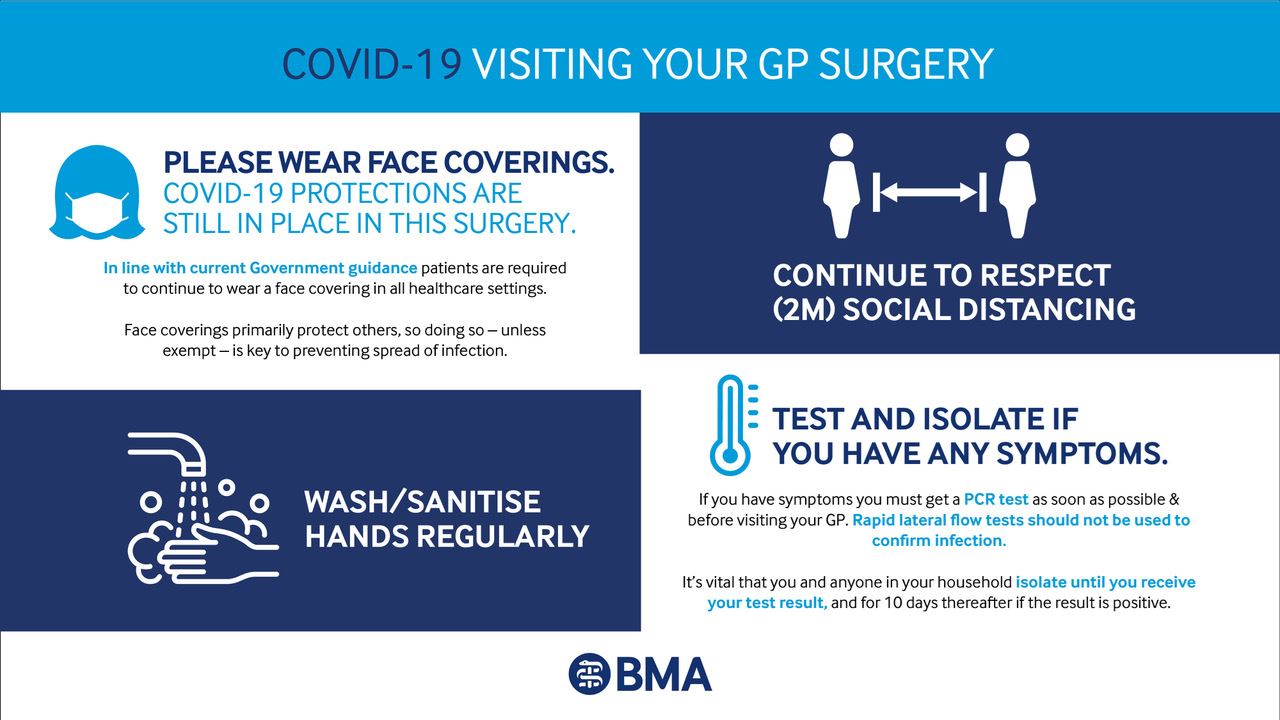 Coronavirus Enquiries
As advertised on the NHS Inform website, we would urge patients with enquiries regarding Coronavirus to refer to the up-to-date information on the NHSInform/Coronavirus website here or calling the National Coronavirus Helpline on 0800 028 2816 open 8am-8pm each day.
Please click on the link below for Coronavirus in Scotland information on the Scottish Government website:
https://www.gov.scot/coronavirus-covid-19/
Ready Scotland
To access the Ready Scotland website please click here this gives links on how to get help and how to offer help during the Coronavirus crisis.
Helplines
Coronavirus (COVID-19) Helpline
If you don't have symptoms and are looking for general information, phone the free helpline on 0800 028 2816 or visit the NHS Inform website here.
The helpline is open 8am-8pm each day.
Helpline for Vulnerable Members of the Public
A new national phone number has been launched for people who are over 70, disabled, require the support of mental health services, are pregnant or receive a flu jab for health reasons. This includes the shielded group and the wider at risk groups.
The helpline – 0800 111 4000 – will initially operate during core working hours of 09:00 to 17:00 while plans are developed and implemented to extend it to operate for a longer period each day.
Callers will be automatically connected to their local authority who will support them to access the service they need, such as:
essential food and medication
links to local social work services for vulnerable children or adults
emotional support
contact with local volunteer groups.
Please click here for more information.
Coronavirus (COVID-19): Testing
Testing is part of the national Test and Protect approach to containing coronavirus (COVID-19).
Testing is available to people with and without symptoms. It can be carried out at home, or at one of the many coronavirus testing centres across Scotland.
You can get a test for:
yourself
someone you care for
a child in your care
Types of coronavirus test
The 2 main coronavirus tests are:
polymerase chain reaction (PCR) – used mainly for people with symptoms
lateral flow device (LFD) – used for people who do not have symptoms
The coronavirus test you should take depends on why you're getting tested and whether you have symptoms.
PCR tests
You must take a PCR test if you have any one of the three symptoms of coronavirus. These are:
a high temperature or fever
a new continuous cough
a loss of, or change in sense of smell or taste
A new, continuous cough means coughing for longer than an hour, or three or more coughing episodes in 24 hours. If you usually have a cough, it may be worse than usual.
Please click on the link below to access the NHS Inform website to find out more about testing and book a PCR test.
Covid Vaccination Exemption Certificates
GPs and their teams cannot issue vaccination exemption certificates.
Further information on the vaccination exemption certificates scheme, including information on safe vaccination and routes to obtain an exemption can
be found on the Scottish Government and NHS Inform websites.
Alternatively you can phone the free NHS Covid helpline on: 0808 196 8565
Vaccination Status
Please do not contact your GP Practice to ask for a COVID vaccination passport or status certificate – they will not be able to provide any standard document.
The Scottish Government has launched a service that allows people travelling abroad to access their record of vaccination status themselves.
You can now request a record of your vaccination status. Read more here NHS Inform Vaccination Status.
You can also get a copy of your vaccine status by phoning the COVID-19 Status Helpline on 0808 196 8565. The helpline is open every day from 10.00am to 6.00pm. You should only request your vaccination status over the phone if you're unable to download a PDF version.
If you are planning to travel abroad, some countries may require this for entry. Coronavirus has not gone away. Think before committing to non-essential travel abroad.
The Scottish Government continues to urge a highly cautious approach to international travel, given the risk of new variants. The four UK Chief Medical Officers have said that green-list status should be the exception, rather than the rule, with countries added to the list only where there are very good reasons for doing so.
If you are intending to travel abroad you should:
check the entry requirements for your destination country on the UK foreign travel advice
get up-to-date information from the website of your destination country
check the re-entry requirements for your return to Scotland
only request a vaccination record if it is absolutely required and you are due to travel in the next 21 days
Community Testing
Almost 1 in 3 people infected with Covid-19 do not have any of the usual symptoms but are potentially passing on the virus unknowingly to their loved ones, friends and others in the community. Everyone is encouraged to test twice a week, even if fully vaccinated. By getting tested you can find out if you are positive and self-isolate at home to stop spreading the virus to others. It is easy to take a test in Edinburgh. If you have no symptoms and have not been identided as a close contact, you can come to one of the Mobile Test Units, pop-up Community Testing Centres or use a home test. You can:
pick test kits up from most chemists and libraries
You can find out more about community testing on our web pages at https://www.edinburgh.gov.uk/communitytesting
Thank you for your help.
Guidance for households with possible Coronavirus infection
Please click on the link below for more information on isolation if you or a close contact has a positive Covid19 test result:
Guidance for households with possible coronavirus infection
When to self-isolate and what to do
Self-isolation is when you do not leave your home because you have or might have coronavirus (COVID-19). This helps stop the virus spreading to other people. Please click in the link below for more details:
When to self-isolate and what to do
Isolation Note
Use this service if you have been told to self-isolate because of coronavirus and you need a note for your employer. This service is only for people who:
have symptoms of coronavirus
live with someone who has symptoms of coronavirus
are in a bubble with someone who has symptoms of coronavirus
have been told to self-isolate by a test and trace service
https://111.nhs.uk/isolation-note/
Patients Requesting Face Mask Exemption
There is no requirement for GPs to provide exemption letters. Please click on the following link below for more information.
"You must wear a face covering when using public transport in order to prevent the transmission of the virus. For children under 5 years of age or those with particular health conditions who cannot put on, wear or remove a face covering because of any physical or mental illness or impairment or disability or without severe distress an exemption applies. 
There is no requirement to obtain evidence in the form of a letter from a doctor or government that you are exempt. If you have a condition which means you cannot wear a face covering you need only advise if asked that you cannot wear a face covering because you are exempt for one of the reasons listed above."